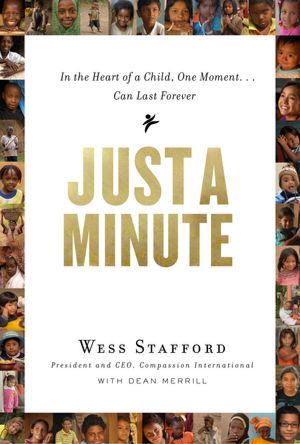 Just a Minute – In the Heart of a Child, One moment… Can Last Forever is a book written by Wess Stafford, the President and CEO of Compassion International, that shares 68 stories of ways people have impacted children or were impacted by others as children. It's essentially a collection of those single moments that help shape us as humans… for good or bad. Compassion International is an organization whose primary ministry is the sponsorship of children in impoverished areas through monthly giving and letter correspondence. I currently sponsor an 8 year old boy in Bolivia, and I have a great respect for the ministry (who knows… maybe I'll apply for a job there someday). Given this info,  I was naturally excited to hear the stories shared.
Overall, I'd say I liked the book. While I didn't find all the stories really fascinating, there were definitely parts that made me smile, parts that made me cry, parts that convicted me, and parts that made me appreciate the caring and encouraging environment in which I grew up. I owe a lot to my parents, other family members, and teachers.
The story transitions were sometimes a little rough, and I found myself confused several times as to whether or not the author was telling his story or a third party. Some more thought could have gone into the book structure… just my opinion. Not really a major hang-up in the scope of things.
For me, I think the book accomplished what it set out to accomplish. I can't say that it's always the case, but I do feel that I now view opportunities interacting with children (and others… the mindset extends outside the realm of kids) as an opportunity to encourage and potentially make a difference.  I suppose it is true that a few minutes sacrificed from our busy days to encourage and love a child can impact for a lifetime. Wess Stafford presents this case very well.  As I stated briefly before, another big takeaway was simply the realization of the countless people that have shown me love through encouragement, discipline, and so on. The book has motivated me to share with the people who have invested in my life. It's really the least I feel I can do.
I'd recommend this book to people of many seasons of life. Buy Just a Minute (affiliate link). Also, if you know me, I'd definitely be willing to lend you my book. Write a comment below or just shoot me an email.
Until next time…
Make a difference. Support a child through Compassion International.